Famous Historical Landmarks &
Places to visit in Boston

Boston Athenaeum
10 1/2 Beacon Street
(617)227-0270
Historical Library housing an amazing
collection of rare books
(including part of George Washington's private library).
No charge to visit, but call ahead for a guided tour.

Bunker Hill
Along the Freedom Trail
(617)242-5641
Famous battleground site of the
Revolutionary War

Freedom Trail
The famous 2.5 mile trail past the most historic landmarks of Boston. The trail is marked on the sidewalk and streets with a painted red line.

Samuel Adams Brewery
30 Germania St., Jamaica Plain
(617)522-9080

Bull and Finch Pub
84 Beacon Street
(617)9605
The famous pub which inspired the television hit "CHEERS."
The "New" State House

(617)727-3676
This is the golden dome that you see on the top of Beacon Hill. Built in the late 1700s, tours Monday through Friday 10am to 3:30pm.


Old State House
State and Washington Streets
(near Faneuil Hall)
(617)720-3290
Overlooks the famous site of the Boston Massacre. The Old State House is the oldest public
building in Boston.

Old South Meeting House

310 Washington Street
(near Globe Corner Bookstore)
(617)482-6439
Famous historical gathering site before the Boston Tea Party.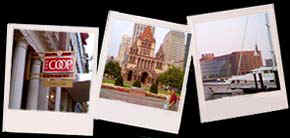 John Hancock Observatory
200 Clarendon Street
(617)247-1977
Enjoy a wonderful view of Boston from the top of
the Hancock building.

Globe Corner Bookstore
At School and Washington Streets
(near Granary Burial Ground)
(617)523-6658
Restored to resemble the former bookstore which stood on this location, The Old Corner Bookstore. The Old Corner Bookstore was a favorite of many famous writers, including Longfellow, Emerson and Hawhorne.
Now a wonderful travel bookstore.
Paul Revere House
19 North Square
(617)523-2338
Built in the 1600s, the historical home of Paul Revere.
Seasonal hours. Call first.
The Harry Elkins Widener Library
Harvard Yard, Cambridge
Interesting Library which includes an exhibit of a
Gutenberg Bible and Shakespeare folio.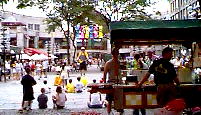 Faneuil Hall
(Quincy Market)
The famous historical site where the debates occurred which led to the Revolutionary War.

Today, it is the site of many restaurants and shops.

Mt. Auburn Cemetery
580 Mt. Auburn Street,Cambridge.
(617)864-9646
The majestic grounds contain
an arboretum, gardens and the gravesites of many famous early Americans.


Old Granary Burying Ground
On Tremont Street
behind the Park Street Church.
Burial sites of many famous historians, such as Paul Revere,
Samuel Adams and John Hancock
Copyright © WeekendEvents.com and its Licensors. All rights reserved. WeekendEvents.com™ relies on information submitted by third parties,
WeekendEvents.com™ does not warrant or guarantee the accuracy of any information provided, and is not responsible for any costs or damages incurred in reliance upon
such information, or from WeekendEvent.com's™ provision of incorrect information. Always "phone first" to confirm event information. WeekendEvents.com Copyright © 1999/2009